Laurence Collins-Willis
OWNER & DIRECTOR (now as Head of Future)

- Entrepreneur

- Prince's Trust Business Mentor

- UK.Gov Help to Grow Business Mentor

- Mankind UK Charity Trustee & Director

- Founder and Executive Director - Marlau Homes

+ husband & dad to 2 beautiful adopted children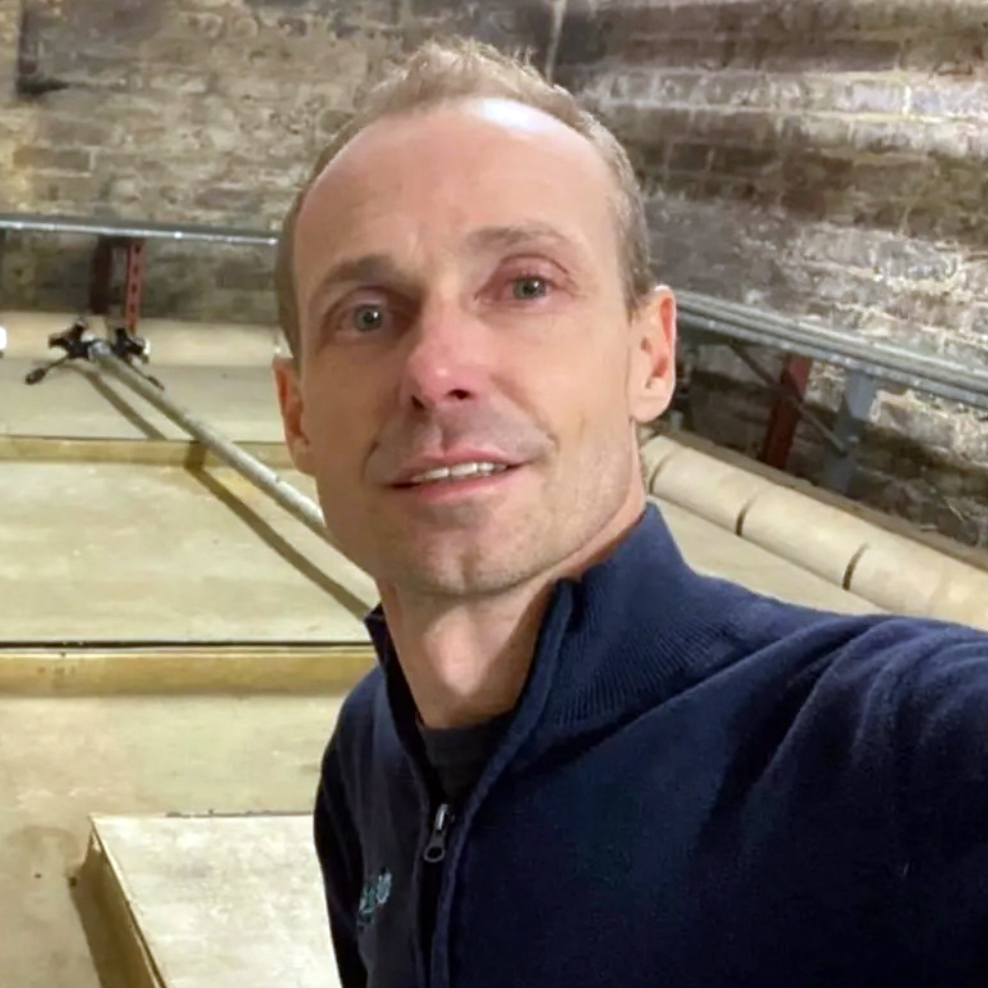 Hi, I'm Laurence,
This may sound strange but I am oddly excited about the industry of water softeners and drinking water filtration – I really do live and breathe water quality.
Water is such an important part of our lives, and I believe we should get the best from it, without all the stuff that makes your skin itchy, or clouds up shower screens & sanitary ware or clogs up boilers.
We should have glorious cups of tea that taste wonderful instead of having to make our way through unsightly scum floating on the top. A glass of water should taste pure and clean, without the cloudiness or smell of chlorine or sediment floating around, and this wonderful clear glass should cleanse your palate leaving you feeling totally refreshed.
Arriving in the UK
Twenty-five years ago, in 1994, I came travelling to the UK with a backpack with an initial plan to stay for just one year.
I started working at the tantalising Bibury Court Hotel in the Cotswolds, and it struck me as early as that how different the water was in the UK compared to what I was used to in Southern Africa. Everything within the staff quarters was covered in white residue, and the Housekeeping team frequently talked about scale. The hotel had a softener, but in those days that didn't mean much to me, other than the fact the maintenance man, Dave, was always complaining that it wasn't working properly.
I had a brief and uncomfortable 4-month stint in Scotland where I had my car stolen, lost my job and became homeless in Aberfeldy, which was cold, and wet, and I found myself eating beans out of cans while sat in the red doorway of a building on the high street. I was the only homeless person in town, and I was certainly shunned.
Luckily, something clicked in my head and one day I realised I had to change or I was going to be like this forever, and so I hesitantly rang Andrew, the owner of the Bibury Court, who, after calling me a silly fool, sent up some money to the local post office to cover my bus fare and I jumped straight on to the National Express coach and went back to work at the hotel in the Cotswolds. I was on the streets in total for 2-months through mid-November 1995 to early January 1996.
Gaining valuable business experience
It took me a bit of time to regain my confidence, and about a year later I went to work at Kall Kwik Printing for a terrific couple called Paul & Sue Willis in Crawley, Sussex. Paul & Sue bought bankrupt businesses, turned them around and sold them on. They had a fantastic work ethic and integrity, and I recall those days with fondness as much of my business thinking today was instilled into me by them. At a very young age, I was taught skills that have stood the test of time for me, and affected many positive decisions I have made since. We have remained close friends ever since.
Gaining technical understanding at British Gas
I eventually decided to explore the UK a bit more, and in 1998 I moved up to North Wales where I started to work for British Gas. This was the second time that I started to think about water because this water felt so different from what I had become accustomed to in the Cotswolds and in Sussex.
Over the seven years that I worked for British Gas, I had some wonderful career roles thrown my way, and eventually, I was relocated down to Brighton and thereafter on to Kent.
British Gas gave me an excellent understanding of central heating systems and I recall one of my bosses, a gentleman called Tony Jones tell me that I had a "scary technical ability for someone of your age". I just had this ability to fault find really complicated problems within customer homes (incidentally Tony is now the General Manager of Harvey Softeners – I'll explain how that came about later on).
I found working for British Gas very stressful with the constant strive to hit monthly targets, and one day I met a chap called Jeremy Crush in my local Grahams plumbers merchant in Ramsgate, Kent.
Jeremy ran a water softening business called ER Longley, which his grandmother had started back in 1926. I recall Jeremy being very proud of the heritage of his business. Jeremy suggested that I should leave British Gas and go work instead for a water softener manufacturer as it was a great industry, but added that he felt very few young people were getting involved anymore.
I bumped into him a few times after that, and eventually, he convinced me to see the light. After some thought, that's exactly what I did.
Taking up a career in water softening
I joined EcoWater as a Sales Rep managing their Kent, Sussex, Surrey and London trade regions, and was later given the opportunity to set up their commercial water softening side, training the larger more technical merchants, like BSS. I quickly hit our targets, and I was promoted once more, this time to run their dealer network for the UK, which was when I met Jeremy for the second time. This time he was a client, and we had a good laugh and joke about it.
Some years later, after several promotions, I was made redundant from EcoWater in November 2008, just as the credit crunch hit the UK and I ended up losing everything, including my home in Westgate-on-Sea, Kent. It was a painful time, the repercussions of which affected me financially for many years.
Aquafactors, Aqua-Nouveau and Kinetico
By this time I had fallen in love with our industry and wanted to stay within it and was offered the opportunity to run the window cleaning equipment manufacturer, Aquafactors, in Basingstoke.
Within a few months of my joining the business, the company went into receivership and I was promoted to Group General Manager to also run their sister company Aqua Nouveau, a large Kinetico Water softener dealership, with a view to turning the two businesses around.
I spent two years running the business and had a lot of fun with the owner, Alan. We remain close friends to this day, and Alan has moved on into the flooring industry, which he loves.
Harvey Water Softeners
I spent two years trying hard to turn around the ailing group, and during this time got to know Casey & Harvey Bowden of Harvey Water Softeners.
Twice Casey asked me to join them to run their dealer network, but I didn't feel I could leave a company in such a delicate stage of a turnaround. One day, Casey said that they had to move on with their own business plans and if I didn't join them then, I would miss the boat. I reluctantly and apprehensively went to work for Harvey Water Softeners who until that time I didn't hold in high regard.
With the benefit of hindsight, I am surprised that I was invited to join Harvey Softeners as I was very sceptical of their business. All I had to go on was a negative perception of Harvey's business practices over the years, and I just didn't believe in the Harvey business or their self-claimed "force for good" approach. So many competing dealers of theirs, and other manufacturers would talk about this short man who was like a 'Jack-in-the-box', always turning up like a bad penny and making a nuisance of himself.
It took me nearly six months before I really got to know the other side of Harvey Bowden.
Harvey knew I was sceptical of both him and his business, and yet he gave me a break, but to make up for it, he played tough on me, challenging me and questioning me at every moment where he felt I wasn't looking after the customer right, or was reacting inappropriately. I came to gradually have a grudging respect for the man, and then one day something clicked. I just 'got' him. I realised he never told a lie, not even a small white lie, and he was extremely ethical and passionate about UK business, not to forget he was extremely knowledgeable and devoted to our industry. He was totally committed to helping small local businesses thrive, and I came to regard Harvey as my ally, mentor and coach. We didn't necessarily always see eye to eye, but I think he respected my difference in opinion, especially when it came to managing his dealer business for him – I took my dealers to a whole new level over the years.
Harvey's ethics are so deeply ingrained that they filter through every part of the business.
Harvey's son, Casey, effectively my boss, was Sales Director when I joined in late 2009 but soon thereafter became Managing Director, and the business thrived even further. It was an exciting time to be part of the business, and their strive for perfection resulted in the employment of a new Technical Director, Martin Hurworth, who became the leader of this great business as Managing Director. Martin was incredible. Initially, we got on, when he was Technical Director, but then when he became Managing Director and my new boss, he tried to manage me so differently to what I had become accustomed to, and unfortunately we clashed - how much I have learnt since!
I had for some time been thinking about buying a dealership and had been in negotiations with a few who were looking to retire by this point, and the craziest thing looking back on it now is that I am tremendously close to Martin Hurworth, MD of Harveys. He was my rock, and I thrived by his sense of doing the right thing and tremendous energy. He has had a profound influence on Harveys, and on my own business and team. Even though I am independent and sell the right softener for the customer's home, Martin respected that and helped me with advice and encouragement regardless.
As Dealer Manager for Harvey Water Softeners, I had the enjoyable opportunity to motivate and coach our dealer business owners and their staff to achieve the success they worked hard for and richly deserved. Under my direction, we became the largest and fastest-growing dealer group in Europe.
This was achieved by developing, refining and duplicating robust systems and strategies. It was a privilege to be in a role where you knew the support and advice you gave was regarded highly and to see the advice you give create excitement and growth within the industry. We were a team of winners, growing at rates that exceeded industry expectations.
About 4-years before I left Harvey's, I realised I wanted to begin to look for a new challenge but didn't want to leave the company if there was any risk that anyone would turn around and say I hadn't done this or hadn't done that, or had been a poor dealer manager, and so I started to look for ways to leave a legacy behind.
I bought in my old boss, Brian Kiell, from British Gas to help me to create a system that would model what Excellence looks like in our industry, and then we set up a 3-year intensive business skills programme to train the dealers on Excellent strategies they could use to grow their businesses. The results were phenomenal! We went from the smallest dealer group in Europe to the biggest, with an excellent mindset to go with it.
Along the way through the Excellence programme we developed, Brian brought in Tony Jones, my old (young) technical boss from British Gas, who had gone on to manage a very large with huge energy. Tony started as Head of Sales but quickly went on to become General Manager of Harvey Softeners after Martin left the business, and Tony has been incredible as well. Tony is one of these heroes of business who will break the rule if it means the customer gets a world-class service and has been there for us as a team hugely, whilst also completely respecting that we are an independent business and sell all makes and models, including EcoWater, Hague, and many other brands. This kind of commitment to the customer is a great role model for us.
ER Longley Hydroworks
By the end of year 2 of the programme, I began to look for my next challenge and looked around at various South East based water softener dealerships with a view to buying one of them, and this included a brief conversation with Jeremy Crush about his ER Longley Hydroworks business, and we discussed briefly his plans to retire in 2019.
When Jeremy passed away unexpectedly in July 2016, we decided that it was now or never – The time had come to make the move, and we were offered first refusal – we agreed to purchase the business from his widow, Linda.
The business had been trading for 90 years when he died, making it the longest-established water softener business in the UK marketplace, and so I see my role as the custodian of this Kent and Sussex heritage for future generations.
I am excited to have this unique opportunity to begin to move this highly respected business into the future.
I promise you that as we develop this business and make it great once again, we will give you the very best service, complete honesty, and our very best advice and attention at all times.
Marlau Homes
Mark Collins and I started this business in October 2013 after working closely with Robert Kiyosaki's USA 'Rich Dad' team from 2012.

At the time I was £30,000 in debt and had no savings, and no pension. I had lost everything after being made redundant from EcoWater, including my home, and I simply did not know how I was ever going to get out of the mess I was in.

I received a phone call from my sister who told me about Robert, and suggested I look into mentoring with his team. By this point, I was desperate to find a way out of my financial mess, and so I made contact. They quoted me an eye-watering amount of money for a year's worth of coaching, and gave me very strict rules of engagement which, if I didn't adhere to them, would see the mentoring cancelled and my investment lost. I think the integrity of those rules convinced me I had to find a way to do it, and out came multiple credit cards to pay for the coaching.
What I learned from Rich Dad Poor Dad was transformational for me, and through the skills I learned, I cleared my debt within a year. We were encouraged to look at creating a business, and then spent the next year training in a specific sector to give us that sector expertise (out came the trustee credit cards again to pay for the training).

We eventually settled on starting a business in property investing (How we were so brazen, I am not sure, as I didnt have any money to buy any property). However, it worked, and within a year we had purchased several properties. Today, Marlau Homes holds assets in the 7-figures, which we hope offers inspiration to anybody else equally in a bad place in their lives that all they need is to have self-belief and a plan.

Over the years, Marlau Homes grew to become one of the leading Yorkshire Landlords, providing professional Houses of Multiple Occupancy (HMOs) and residential buy-to-let properties to tenants. Since Brexit, we have scaled back the business and sold a couple of properties to pay off debt, and the remaining portfolio is now buy-to-let only. All profits go towards servicing our investors, and reinvesting in the properties so that our tenants have excellent-quality homes to live in. We don't draw any of the profits out for our personal use. For us, this has been an exciting journey.

"We are committed to providing quality affordable rental accommodation. We believe that everyone has the right to be housed in great accommodation that provides for their comfort needs and gives them a place they can call home."


Mankind UK Charity Trustee
This is a very personal thing to place on a business website and it's taken me a long time to feel able to do so. I am very proud to be a trustee of the men's sexual abuse charity Mankind which work nationally.
As a child, I experienced a very significant incident over three days perpetrated by five men and one woman, and I was not meant to get away from them, let alone survive.
The way trauma works, as I now understand, is that you can forget about things because your brain tries to protect you and help you survive. Understandably my parents were very pleased that I was able for many years to move on from this.
When we adopted our two children in 2016, it triggered memories I didn't at first understand or could comprehend. Through four + years of very intensive therapy, I have had to relive those experiences in awful detail all over again. This has been a very painful and challenging journey for me, my husband and my two children, plus my parents, as everyone rallied around me to help me through processing these memories. I should also acknowledge the incredible team I have at Hydroworks who have supported me 100% through this journey with compassion and complete understanding.
I was approached by the chairman of Mankind (https://mkcharity.org/) and asked if I would be a Trustee and Director for the charity, and as a survivor, I believe this places me in a very unique place because I can make a difference to other men going through the difficult journey where they too have experienced unwanted sexual encounters.
If you know anyone who needs help because of unwanted sexual encounters, a great place to start is this self-help website the sector has created here which is full of helpful information and resources - https://www.1in6.uk
Princes Trust Business Mentor
I thrive on supporting young entrepreneurs and witnessing their passion ignite - seeing the spark in their eyes is truly incredible. Together with the additional support they get from the Prince's Trust, it is great to empower them to achieve their dreams and succeed in the business world.
Excited for this inspiring journey ahead! #MentoringMatters #YouthEmpowerment

UK Gov Help to Grow Business Mentor
I was delighted to have been invited to become a government-backed business mentor, helping UK businesses to grow. Being in business for yourself is hard, especially if you employ people. You have to be focused on running the best business you can, as your team are counting on you. Helping a business owner to identify if growth is right, and then determining the right kind of growth is just one of the areas I enjoy exploring.
Volunteer - Choir With No Name - Homeless Charity
As part of my protecting my own mental well-being, I gain immense pleasure by working most Monday nights at the homeless charity, Choir with No Name, in Brighton.
We welcome the members in, make them a warming tea or coffee with biscuits, sit and chat. Then they go off and sing together (sometimes I'll join in), while the kitchen team (I'm often part of that) make dinner, which is always Vegan and Vegetarian. After they have finished singing, we serve them dinner, dish ourselves up a portion too, and then sit down with them, and eat together.
It is incredibly humbling to be around such an amazing group of people - you can find out more here