We have extensive knowledge of domestic and commercial installations, and will always give our best advice. Our engineers are trained by the manufacturers and regularly undergo update training.
We service and maintain all makes of water softeners and drinking water filters.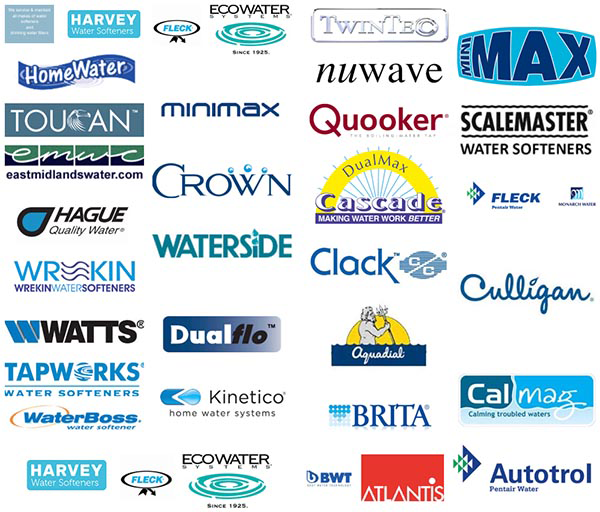 Everybody that visits you will be a direct employee of ours, and not subcontracted.
Our pricing is exceptionally reasonable and we will keep you fully informed all the way, letting you know if any parts are required and the cost of those, before we replace anything.
Sometimes when fault finding a softener, a rare exception can occur that makes it complicated to diagnose multiple faults straight off, but you can be assured that every effort will be made to find and fix the fault the first time. If we can't, we'll keep you informed all the way.
If you're not sure if your water softener is working properly, ask us about the FREE health check service we provide. We'll come to your home, check the condition of the installation, test the softness of your incoming hard water, soft water, water pressure and a few other things that we deem to be essential to the perfect operation of a water softener, and then we'll make sure you get a full report from us.
Due to the wide scope of businesses we serve, we offer our customers public liability to £10,000,000.
Commercial water softener servicing
Servicing and Repair
With our in-depth knowledge of almost all water softeners, our service team will keep your softener performing at its best, and will always give you best advice.
We only ever use new genuine spares to ensure you are getting the best value and performance following the repair.
Our service cost is based on a repair on site. If any spares are required, we will give you our best advice as well as the costs so that you are able to make the most informed decision.
If your softener needs to be returned to our workshop for a more complete strip-down and repair under calibrated conditions, we will endeavour to leave you with a *FREE Service Replacement Unit for the period of the repair so that you can continue to enjoy the benefits of softened water. (*subject to availability)
All of our service and repairs come with six-month parts and labour guarantee on replacement components. Should subsequent faults occur that are unrelated to the original service or repair, these will be chargeable.