Why choose EcoWater's water softeners?
Intelligent

EcoWater softeners are managed by very clever advanced algorithms which automatically adapt to your personal water needs, using less salt and water.

Simple

EcoWater softeners are very simple to operate once set-up, and doing the actual set-up is equally simple too! They are the best of single-cylinder technology, perfected!

Convenient

Once your softener is set-up, you only need to check it when you receive alerts through the app. It even includes a light to illuminate the salt tank when you open the lid!

Reliable

EcoWater softeners use industry-leading technology, and are made exclusively from corrosion-free materials to reduce wear and tear.

WiFi Enabled

When choosing the location for your softener, if it is in an area covered by WiFi, then you will be able to remotely monitor your softener.
EcoWater is the world's largest manufacturer of water treatment systems, and is undeniably the market leader, manufacturing more than ¼ of the residential softeners sold worldwide. What this means in numbers terms is that of the approximate 2,000,000 sold in the world each year, EcoWater's market share across the planet is over 500,000 of that!
They also owned the original patent for water softeners, and were founded in 1925, making them the oldest manufacturer in the industry, although in those days they traded as 'Lindsay Softeners'.
As the world's oldest and biggest manufacturer of water treatment systems, their advanced expertise in technology is often game-changing, and they, along with Culligan, the other large water treatment manufacturer - both of whom are American companies - set the standard for durability, usability and attractive designs, coupled with some of the best salt and water efficiencies in the sector.
EcoWater Systems first traded as Lindsay Water Softeners. In 1937, the Permutit Company was founded in the UK and started a long tradition of providing reliable water softeners that consumers could trust. This made them a perfect potential partner, and when the opportunity arose they became part of the global company EcoWater Systems Group in 1990 as it expanded into the UK market.
Unlike many water treatment brands, EcoWater makes everything itself, designing, engineering and manufacturing 95% of its products and components in its own facilities to international water product standards. EcoWater's state-of-the-art, highly computerised facilities based in St Paul, Minnesota, and Ripley, Mississippi, and now also in Dąbrówka in Poland ensure the highest level of quality.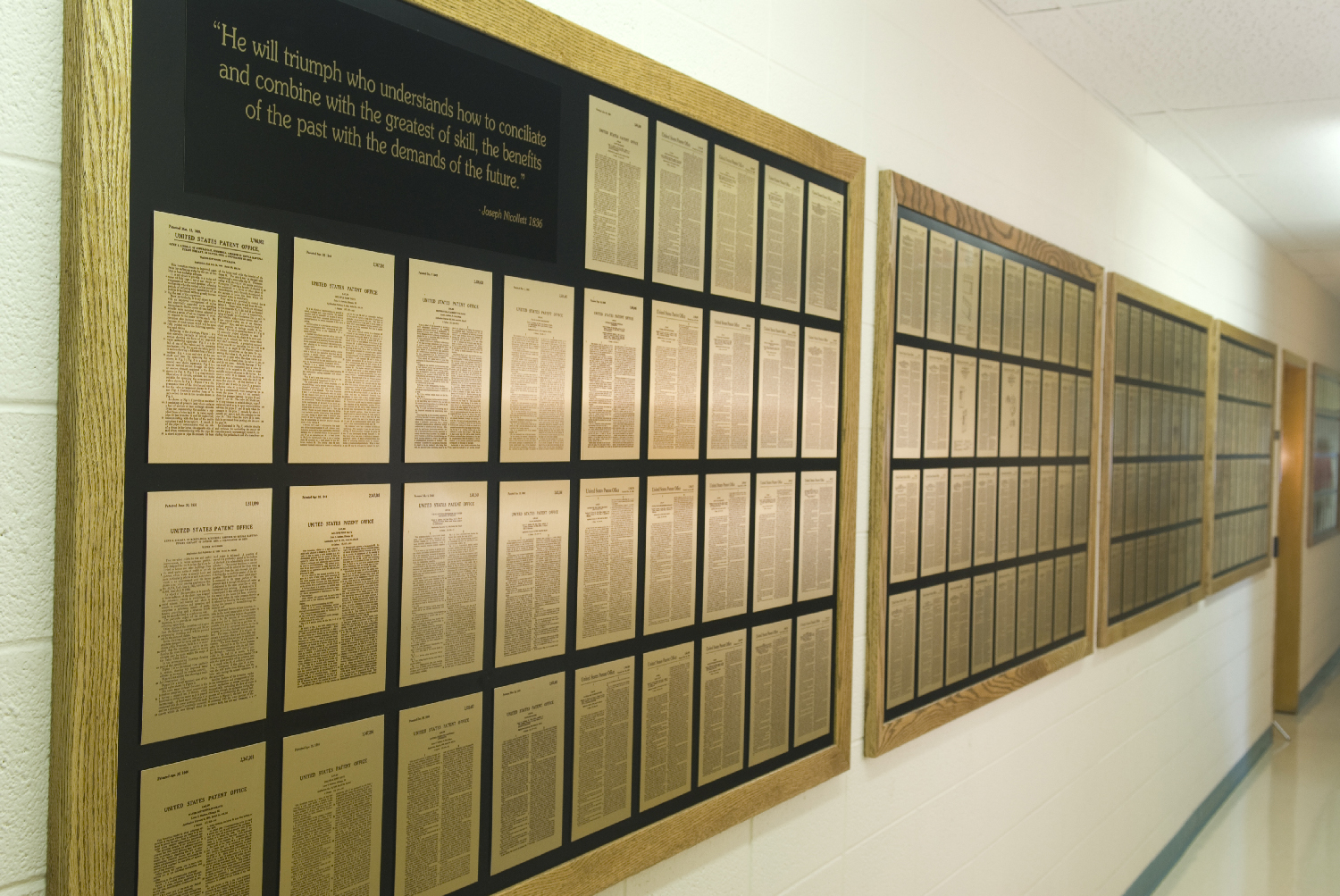 Let's look closer at the EcoWater eVOLUTION series
HydroLinkPlus® Wi-Fi and Smartphone App Monitoring

HydroLinkPlus®-Wi-Fi enabled technology sends continuous and excessive water use, system error, low salt and service reminder alerts, including a water-to-drain sensing alert notifying you when an excessive amount of water is going to drain. HydroLink®- Patented two-way remote monitoring also available.

Patented Intelligent Control

Sophisticated, yet easy-to-use electronics capture historical usage patterns to predict future needs for precise regenerations. Improved Intelligent Volumetric Control guarantees more salt and water efficiency.

High-Quality Fit and Finish with Dampened Hinge Salt Cover

The Boost and Power models as well as the Refiner series all feature the dampened hinge salt cover with soft-close feature.

Multi-Wrap Fibreglass Reinforced Resin Tank

EcoWater tanks are made by EcoWater for their systems and are not 'off-the-shelf'. They are durable tank and will not deteriorate, rust, burst or corrode.

Coconut-Shell Carbon with Lifetime Warranty

The Refiner series filters the water throughout the home without compromising water flow. Reduces chlorine taste and odour, 
which extends the resin life and eliminates the need for a separate carbon filter and filter changes.

Patented Stratified Resin Bed with Lifetime Warranty

Layered mix of fine and standard-size resin provides superior filtration and iron removal without sacrificing flow rate capability.

Full One-Inch Riser with 
Self-Cleaning Distributors

One-inch diameter for increased flow rates, which ensures that household demand is adequately met. Distributors exhibit excellent flow rates and are cleaned automatically by counter-current water pressure.

Positive-Action Non-Pressurised 
Brine Valve

Snap-together construction eliminates the use of solvents that may contaminate water. It features a positive action with double safety that helps prevent overfilling and protects from sucking up air.
EcoWater's patented regenerated process
Washed Quartz under bedding *

Improves the water flow through the resin tank. Also optimises full usage of the high-quality resin's exchange capacity. * Not on Compact models

Salt Sensor and Display

Automatic real-time salt-level detection 
& setting via real-time infrared distance sensor, brine tank light. High Contrast display on rolling screens and to App.
EcoWater softeners sold in the UK score highly in four key areas;
Efficiency
Reliability
Intelligent Technology
Conveniently Easy to Use.
The latest range of EcoWater products, the eVOLUTION series have significantly improved algorithms, which means they use 25% less water and salt per regeneration, compared to their previous model, the ESM series, which in itself was one of the best in the market. This makes the latest eVOLUTION series one of the most advanced group of softeners in the world today!
The EcoWater range is split into three distinct categories
The Compact Range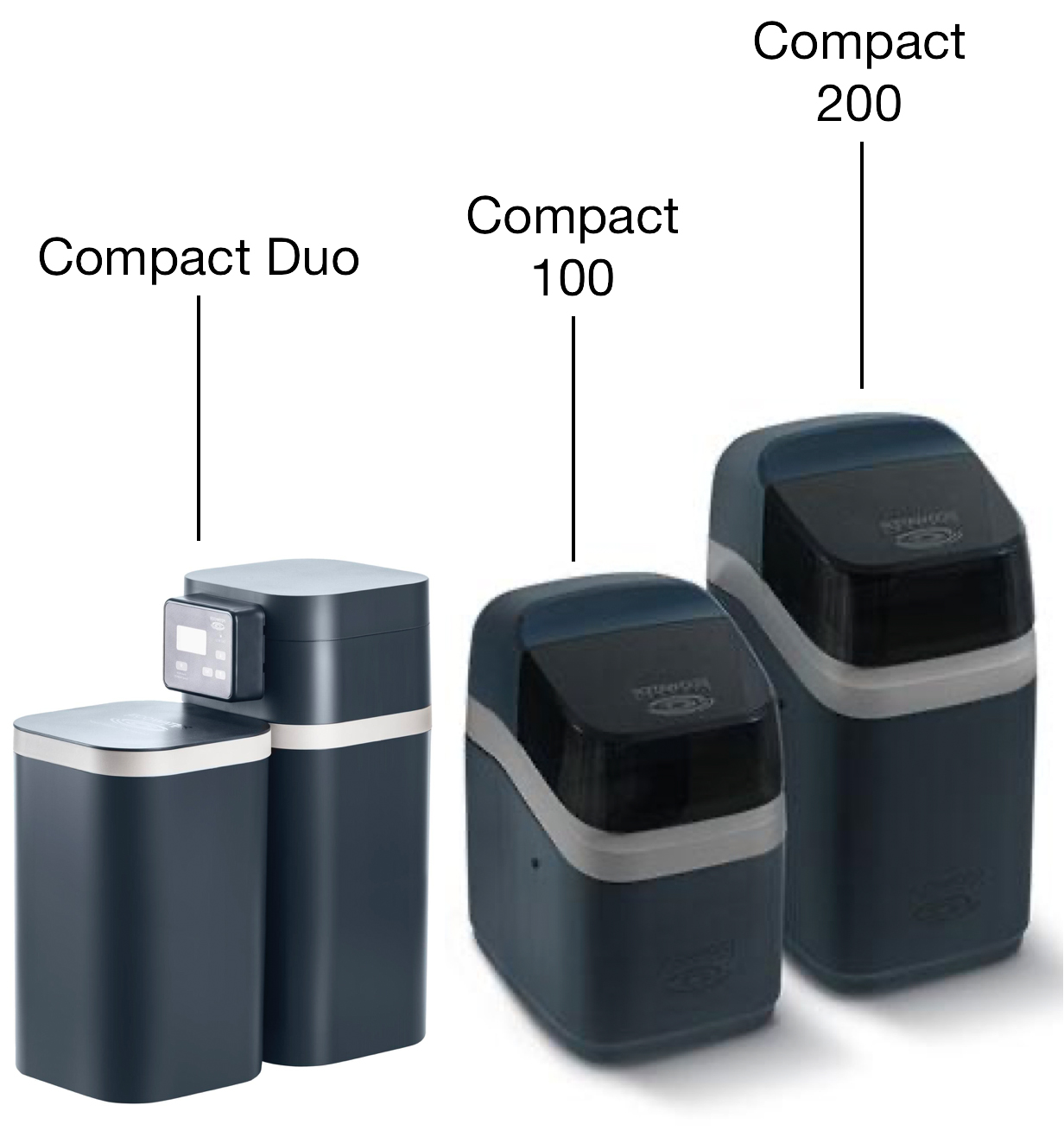 This includes the Compact Duo, and the Compact 100 and 200 models which are all classed as 'family home' softeners that fit neatly into a kitchen cupboard.
The Compact 100 and 200 are 3/4" Single disk valves, which give them a fantastic flow rate of 53 litres per minute, while the Compact Duo has a still impressive peak flow rate of 33 litres per minute!
EcoWater eVOLUTION Compact Duo
EcoWater Evolution Compact 100 & 200

The Boost 300 and Boost 400, and Power 500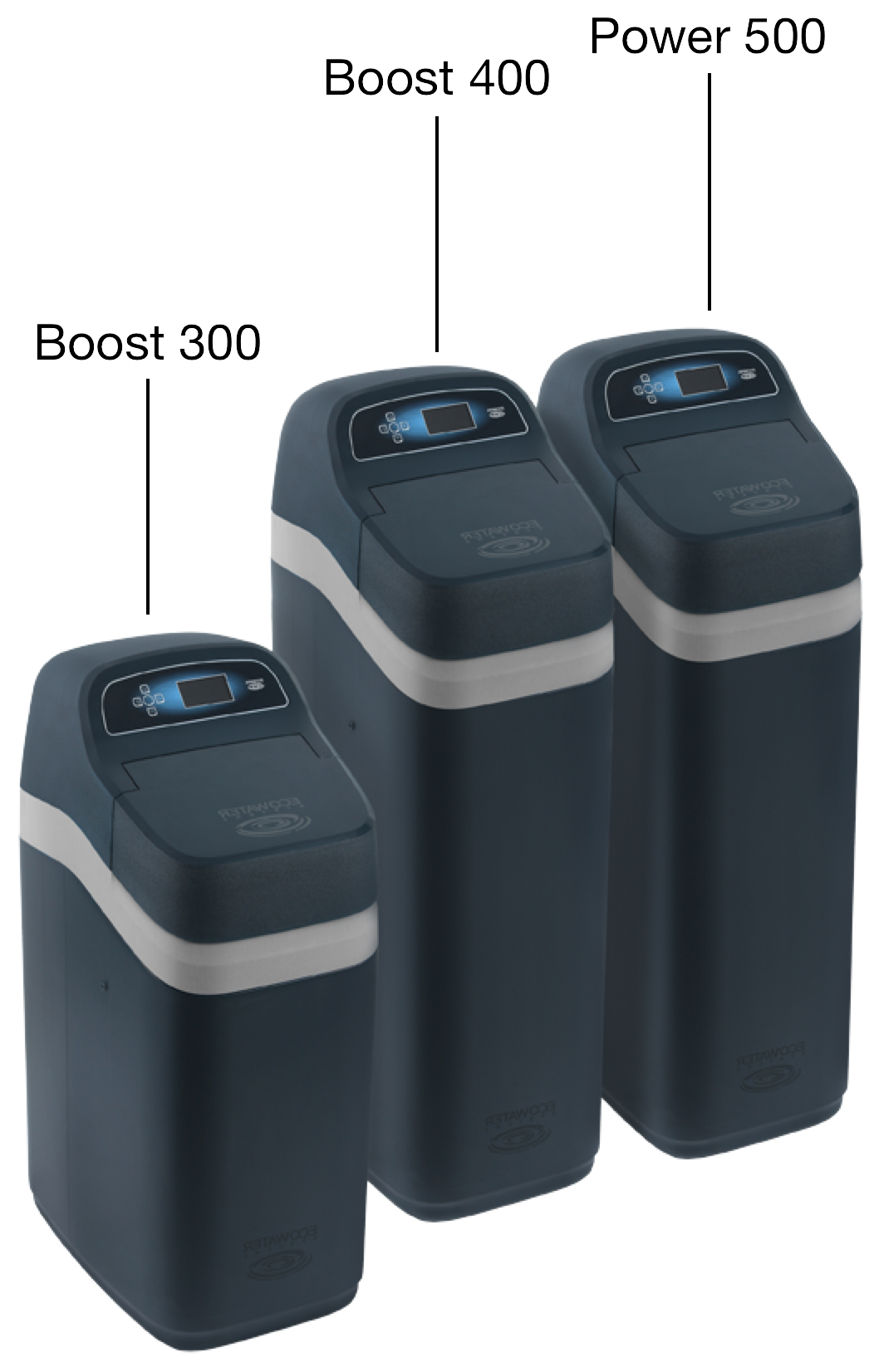 This range is specifically designed for larger homes and busy households.
These higher capacity high-flow softeners deliver consistent softened water, without compromising the flow rates often needed when demand for water is high.
The Boost 300 and Boost 400 are 1" Single disk valves, which give them a fantastic peak flow rate of 56 litres per minute, while the more powerful Power 500 is a 1" Double Disk valve, offering peak flow rates of 84 litres per minute!
EcoWater Evolution Boost 300 & 400

Refiner 2-in-1 Series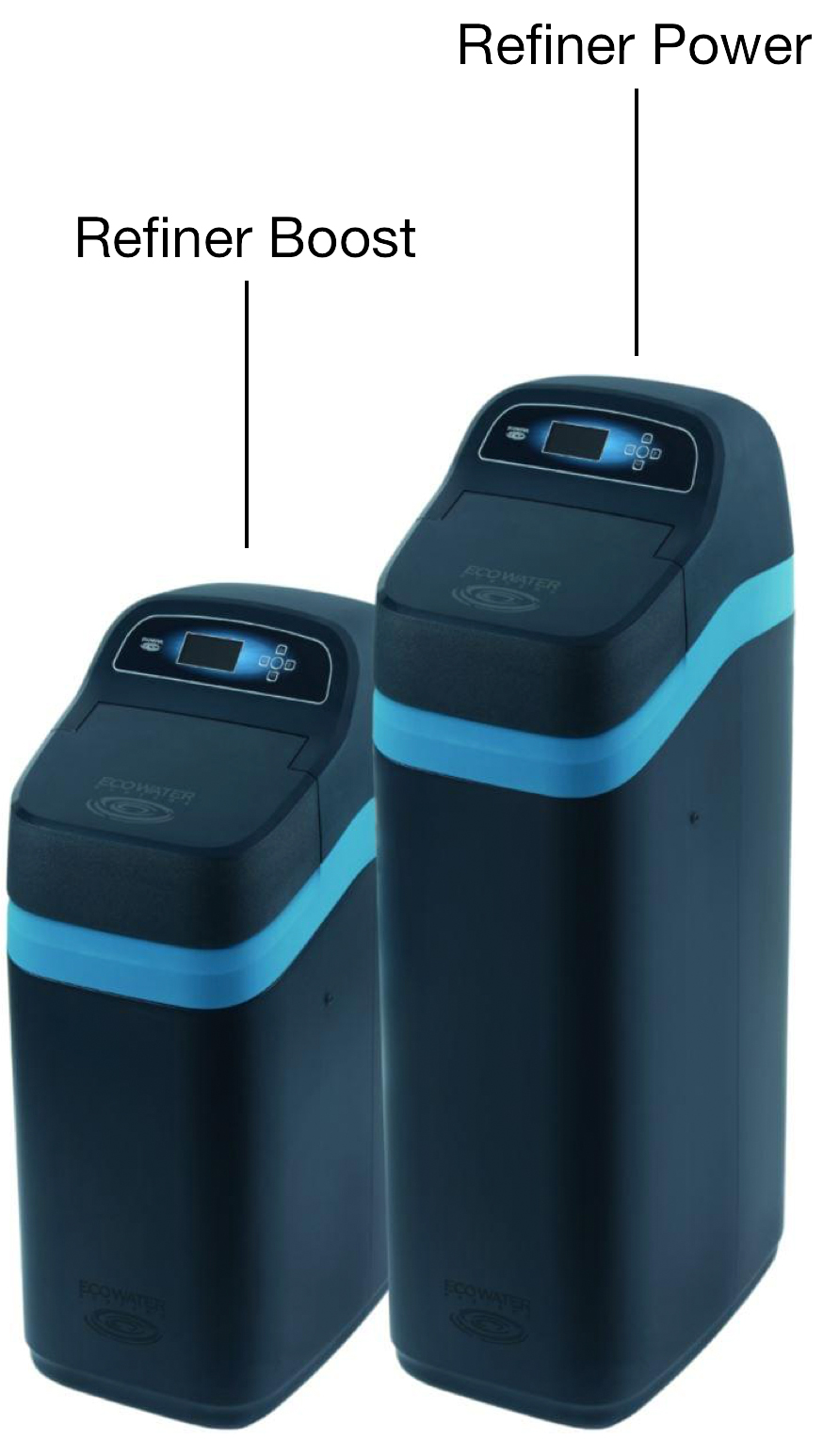 This Refiner range is unique to EcoWater and are a fantastic and convenient way to bring flawlessly filtered and beautifully softened water to your whole home!
The Refiner range uses a high grade of active carbon, and has been designed to remove chlorine, taste and odour, leaving you with soft, clean and clear drinking water.
The Refiner Boost is a 1" Single disk valve, while the more powerful Refiner Power is a 1" Double Disk valve which offers higher flow rates and higher capacity.