Delivery
Salt delivery area
We deliver Water Softener Salt and Washing Powder* for FREE within our day-to-day operating areas of Kent and Sussex. The following delivery postcode areas apply: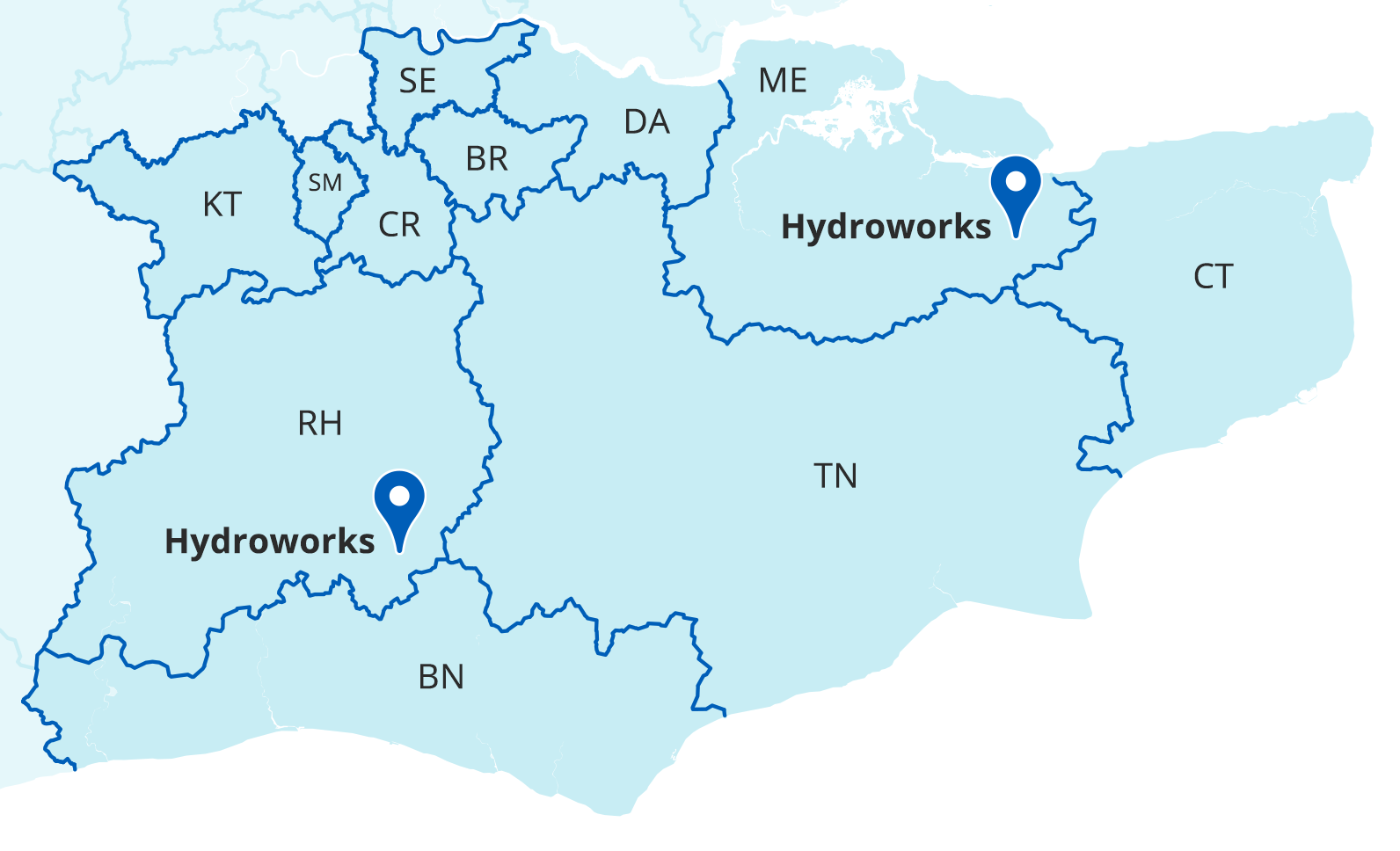 Brighton: BN
Bromley: BR
Croydon: CR0, 2, 3, 5, 6, 7, 8
Canterbury: CT
Dartford: DA
Kingston upon Thames: KT20 5, KT20 6, KT20 7
Rochester: ME
Redhill: RH
Sutton: SM7 1, SM7 2, SM7 3
South East London: SE2, 3, 4, 5, 6, 7, 8, 9, 10, 12, 13, 14, 15, 16, 17, 18, 19, 20, 21, 22, 23, 24, 25, 26, 27, 28
Tunbridge Wells: TN
Our service includes FREE delivery to your home where we will put your salt neatly away in your preferred location.
Fuel Surcharge
From time to time, we have to implement a fuel surcharge. We do this when fuel prices increase significantly, and prefer this course of action rather than permanently raising product prices. Taking this approach means that, rather than increasing physical product costs when fuel prices increase, we can instead just add a temporary charge when needed, and reduce or remove it again when prices settle back down again. This is, in our opinion, the fairest way to protect customer prices. If a fuel surcharge is active at the time you place an order with us, firstly, we do apologise that this has become necessary, and hope that you will understand. You can tell if the fuel surcharge is active at the time if there is a blue drop down bar on the Shop Online page of our website.
We will refill your water softener for you, and check the performance of the softener to ensure it is producing beautifully softened water.
Please allow up to 10 working days from the date of your order for delivery.
Need it sooner? Call us for urgent delivery on 0800 999 4117.
Delivery is Monday to Friday (excluding bank holidays) 9.00 am–5.00 pm.
We will phone or email you the working day before to confirm when that will be.
We will also phone you on the delivery day itself to confirm a more accurate arrival time.
Please note:
We do not deliver salt and washing powder outside these postcode areas.
While we will deliver salt or service your softener within the London congestion zone, the congestion charge will apply.
* Minimum order of 3 boxes if ordered without salt.
UK delivery
All other items are available for mainland UK delivery.
Water Hardness Test Tablets – free postage.
Installation Kits and all kitchen taps – courier charges will apply. We will inform you accordingly once we receive your order.
Please allow up to 3 working days for your delivery.
Do you live in an Apartment block?
If you live in an apartment block, we will need to confirm acceptance of your order separately once we have had a chance to establish the feasibility of delivery. This includes the ability to park at the entrance without incurring parking charges or fines, and the ability to deliver the salt quickly and easily to your apartment. It may be that we need to leave your salt downstairs in the lobby, and if this happens we will be sure to let you know. Increasingly, apartment blocks are becoming difficult to access, and we are incurring charges for being on site too long. If we are, however, unable to deliver your salt to you for any reason, we will let you know and refund your order fully.