Minimax Innova Made by Harvey Water Softeners
5th Generation
The mini-curve salt softener has become the market leader.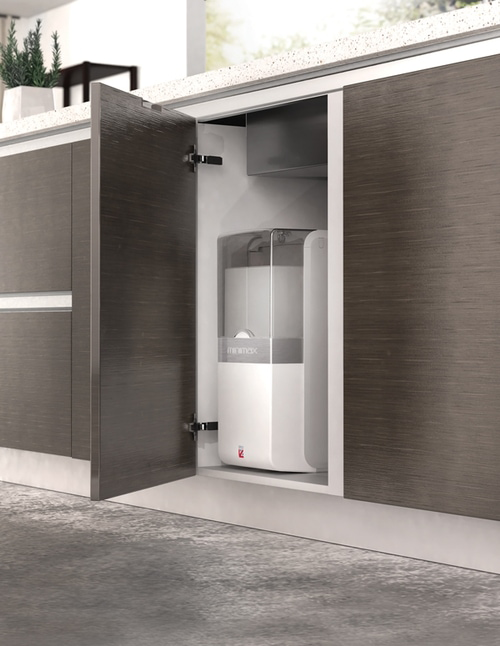 The Minimax Innova takes water softeners to the next level.
Exciting improvements include the introduction of curve block salt (lighter weight and protects your guarantee) and the very useful Salt App and low salt alarm, which comes with a 10-year parts guarantee making it the industry leader.
The Minimax Innova is a brilliantly manufactured water softener and is moulded, manufactured and hand-built here in the UK.
Using the latest innovations in cutting-edge technology, testing and design, Harveys has engineered the Minimax Innova to be the most compact, reliable and now environmentally friendly softener in the market. Made from 62% recycled plastic, the Minimax Innova uses an incredible 38% less plastic than their previous models. This Minimax Innova really reduces your carbon footprint!
By introducing the most stringent testing procedures the minimax Innova is tested for over 1 million cycles, that's 200 times more than the British Standards to testing to ensure it's the most robust and reliable water softener you can invest in.
Continuous flow rates of 51 litres per minute and peak flow of 65 litres


Totally soft water, unlike less technical machines that can dispense 50-70ppm calcium. The Innova will never leave unsightly watermarks.


An impressively low amount of water is required on a cleanse – just 17.1 litres of water used per regeneration.


Suitable for up to 10 people with two bathrooms


It offers both high flow rates and high efficiency in one model.


Twin cylinder design for continuous soft water


It uses patented Harvey curved salt, which is no more expensive than traditional block salt but protects the machine's warranty.


Featuring iLid technology, the Minimax Innova will connect to an App on your smartphone or tablet, updating you when to order salt and other features.


10-year parts guarantee. The most comprehensive manufacturer-backed parts guarantee EVER.


Dimensions: (W)206mm (H)495mm (D)435mm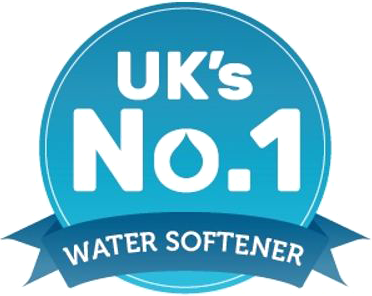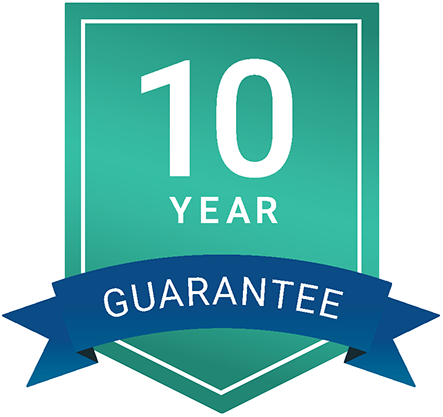 Features
There are many features of this product that make it unique, so let's look at those in detail:
Curved mini-block salt
There are many reasons why the Minimax Innova uses the latest shape and design in water softening salt.
1. The bags are lighter, making them easier to handle. Each bag weighs just 4.3kg and holds 2 x 2.15kg salt arcs.
2. The salt is curved, and the shape is patented, which means it cannot be copied.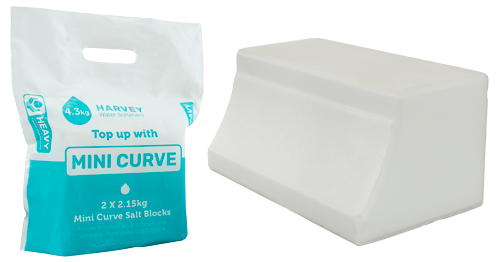 This is really very important because as block salt has become more common in the United Kingdom in recent years, the industry has seen more imported salt entering the market, much of which is of poorer quality. As a result, there has been an increase in circumstances where the quality of the salt is beginning to impact the performance of the machines and thus affect the warranty of customers' softeners.
The curved salt protects the customer from these cheaper uncontrolled, and dubious imports. It conforms to the British standard BSEN973 for water-softening salt, which means we can guarantee 99% purity or better!
Best of all, the salt pricing will not be higher than traditional block salt. This is done for an excellent reason… Harvey wants to grow the curved salt market, just like he did the original block salt market in the early 2000s. They also want to take control of salt quality so that customer warranties of their machines are not affected by poorer quality imports. Read more about the importance of salt quality: Which salt is best for my water softener?

3. The salt cabinet is very cleverly designed to take four blocks of curved 'arc' salt, which means that it holds more salt capacity than typical block salt softeners, which only take 2 x 4kg blocks – which means that it's easier to keep the softener topped up and not run into hard water.
Reduced carbon footprint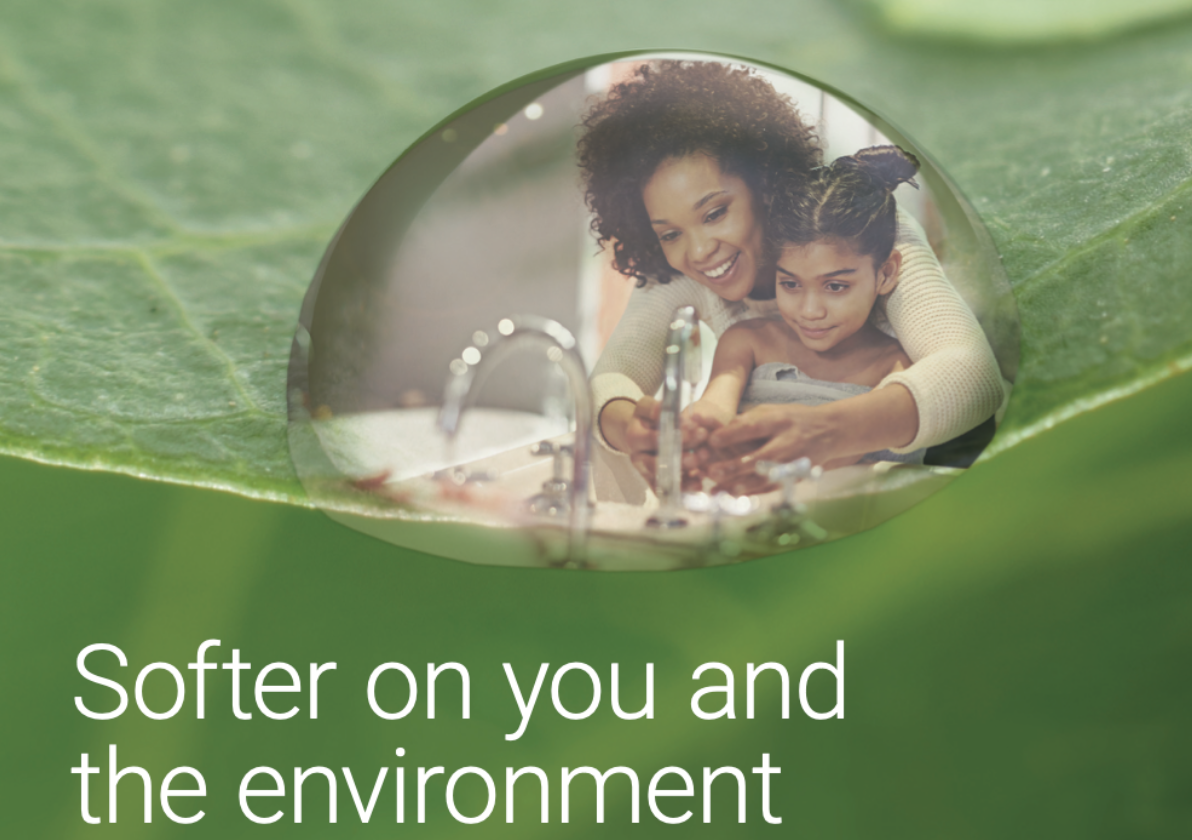 New recycling technology, coupled with its clever design, reduces the Minimax Innova's footprint on our planet by cutting plastic usage by a massive 38%, and it is made from 62% recyclable materials. The cabinet is also made from recycled Polypropylene from a clean source, making it the most environmentally friendly cabinet on the market!
Combined, the Minimax Innova is the world's first eco-friendly water softener, and we're proud to support the internationally-backed 'Less Plastic' campaign.
IoT technology
Launching in the Summer of 2021 is a significant industry first… Smart technology comes with this non-electric block salt softener and an Apple and Android IoT app for your smart devices. Compatible with all Minimax Innova softeners (we'll send a replacement lid to you free of charge), your softener will be ready for the exciting developing world of IoT technology – the "Internet of Things".
Taking advantage of embedded software, your softener will securely connect and exchange important data with Hydroworks over WiFi, including allowing you to order salt directly from within the App or book a maintenance call should that be required. As a valued Hydroworks client, we will supply all our customers who have purchased a Minimax Innova from us with a complimentary replacement lid once the new IoT system has been released.
We are very excited about this technology as it is one of the most sought-after wish-list items customers have requested in the past ten years.
Smart-shuttle metering
The Harveys Minimax Innova takes advantage of further advances in engineering excellence plus the latest technology to ensure maximum flow rates are combined with a lower pressure drop than any other softener in its class.
This is important because the lower pressure drop makes it perfect for those homes with bathrooms on the top floor!
In addition to this, your softener will be specified to match your local water hardness. Some companies try to say only they can do this, but that's not true. Hydroworks can too, and even better, we can fine-tune the softener afterwards if need be! That's a real advantage of the Minimax Innova from Hydroworks.
Accurate metering for maximum flow rates
Using the identical type of water meter used by water authorities in meters fitted in customer homes, the Minimax Innova is designed to accurately measure every drop of water that goes through your home, including very slow dripping ball valves in loft tank situations and even modern unvented high flow cylinders that work on a similar principle.
Typically speaking, when softeners are purchased, they are done so based on the water usage in use in the home at that moment in time. Still, as the Minimax Innova softeners have an exceptional life expectancy, in our experience, water usage can change quite significantly as the family grow up and leaves the nest. Other times, water usage can change if you change your heating system or move home. The Innova is compatible with it all!
Every other water softener in the marketplace tends to struggle to measure floor rates below 10 L per minute accurately and consistently. However, Harvey has created a softener that is designed for every single plumbing system in every single home in the United Kingdom.
The Minimax Innova uses the latest technology to ensure the water quality is always as soft as possible and no excessive water is wasted.
Advanced resin bead formula
The quality of the resin bead is critical to the quality of the water and the longevity of the softener, and all too frequently is the area where most manufacturers scrimp and save.
The Harveys Minimax Innova uses the highest grade of resin, which makes it more efficient at capturing limescale and is highly chlorine tolerant. Importantly and uniquely, the Minimax Innova also offers a 10-year guarantee on the resin - including against chlorine contamination, which every other manufacturer classifies as a non-manufacturing defect should the resin fail.
In our opinion, this is one of the biggest selling features of the Minimax range of softeners, as it offers customers the best peace of mind possible.
Industry-leading impact testing
Nobody tests their softeners as much as Harvey does to ensure the longevity of their softeners.
Whereas the previous models of the Minimax range were pressure tested at low impact to 100,000 cycles at 10 bar (which in itself significantly exceeded British standards requirements), by taking advantage of the latest technology and innovations in plastics engineering, the new Minimax Innova is pressure tested (at high impact, which is a significant achievement in itself) to 1-million cycles at 10 bar, which is the equivalent of over 100 years of softened water excellence and continuous use.
Now, no one can reasonably expect a softener to last 100 years, but what we love about this testing to the extreme is that the Harveys Innova is built to last. That is a great and significant achievement for British engineering!
The latest in twin-cylinder design
The benefit of twin-cylinder softeners is that you have softened water 24 hours a day, 7 days a week – which means there is never any hard water and no downtime.
Moving forward from the original Harvey softener creations, the Minimax Innova leads the pack. Designed by William Sargeant of Harvey Softeners, the minimax Innova is expertly engineered to produce the best quality softened water we have encountered in the industry. From our experience of over 9,000 customers across every make and model of softener available, it produces beautiful, softened water fresh to your home.
‍But more than that, it does it consistently - everyone can do softened water, but few do it well, let alone exceptionally well.
Non-electric
Working very cleverly on water pressure alone through its highly accurate metering system, the Minimax has no timer to wastewater unnecessarily, no motors to jam up or corrode, and requires no adjustments or complicated programming.
It also doesn't need to backwash, unlike other softeners in the market. The reason for this is that it is designed for British and European water quality. Here in the UK, the water is safe to drink straight from the tap, whereas where other softeners are manufactured, the water is often dirtier, so softeners must backwash in those countries. The problem with backwashing is that not only is it unnecessary for softeners fitted to mains water in the UK, but it is also wasteful of water.
Some companies try to turn backwashing into a selling feature simply because their machines have to backwash as they are imported. However, their story is increasingly becoming irrelevant, especially as the UK government is setting water efficiency targets for water usage in the UK to reduce from 160 L /per day per person to 100 L. All unnecessary water wastage will increasingly put pressure on water softener manufacturers.
WRAS approved
As you would expect from any manufacturer, your Minimax water softener is approved by WRAS, the water industry regulator, to give you reliable, fully-tested technology that requires no annual maintenance.
Manufactured in Britain
The Harveys Minimax softeners are manufactured in Woking, Surrey and are hand-built by a team of people who really do care about what they do.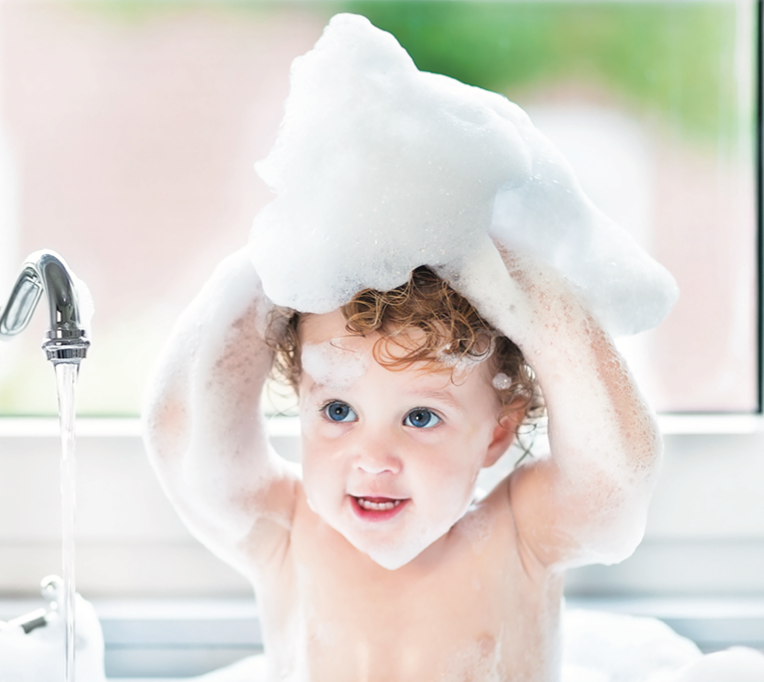 Having walked around the factory many times while managing the dealer network at Harvey's, I got to know the factory team personally very well. I'm very proud that my business, Hydroworks, has been selected as just one of 28 companies in the UK to be an Elite Dealer of the Harvey Softener brand and that we can bring you the best of the industry's technology.
While we are independent and sell every make and model of softener to our customers, the litmus test for what Hydroworks recommend is based on what I would put into my own home, or my folks' home for that matter (or my in-laws!!)
I expect the manufacturers I work with to give the dealer network the very best in everything: The best quality of backup support. The best in leading technology and engineering advancements. The best-in-class performance and efficiency, and very importantly, the very finest quality of softened water.
Harvey softeners tick all of those boxes, and that is why we are very proud to work in partnership with the only British manufacturer in the industry.