Harvey has discontinued this product.
Minimax Sensitive Skin Washing Powder
Harvey Softeners have developed a unique and special non-bio washing powder that takes advantage of all the benefits of softened water. It also outperforms the UK market leader.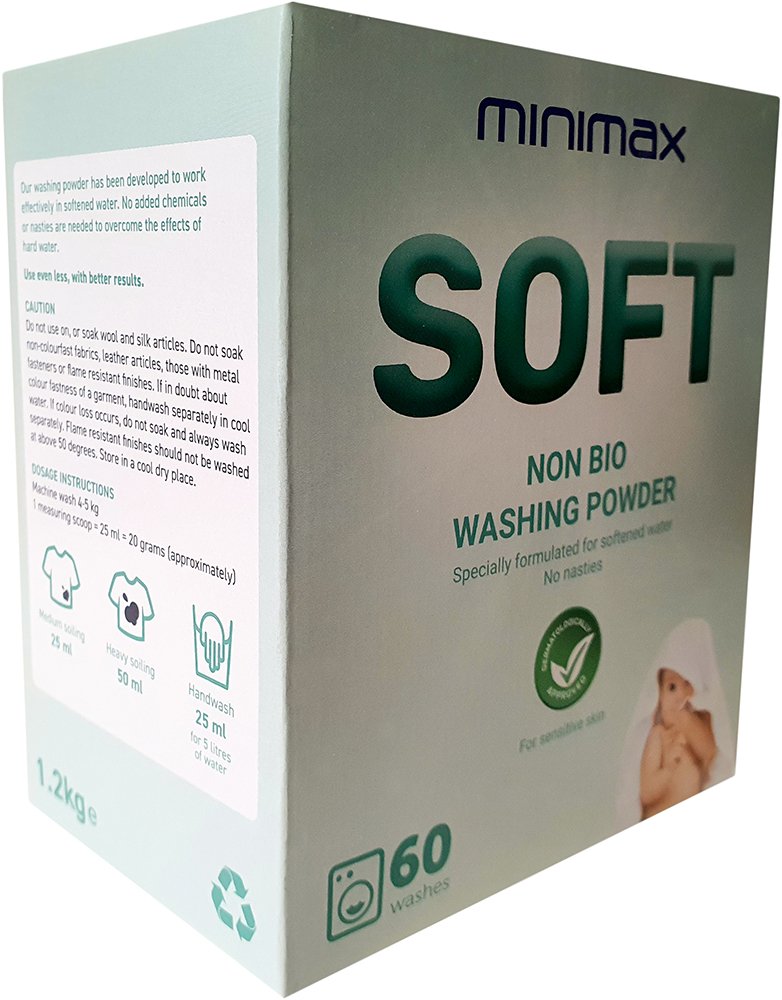 We have had to comply with new legislation. All washing powders sold in the UK and Europe must meet the requirements of the European Regulation EU 648/2004. This regulation focuses on biodegradability, and Harveys are pleased to advise that their powder exceeds the requirements of this regulation.
Features
Superior cleaning when compared with the market-leading non-biological powder and uses less powder
No added chemicals to overcome the effects of hard water
Non-biological
Cleans at 30 degrees Centigrade (however we recommend 40 degrees for the best cleaning results)
Free-flowing and leaves no powder residue in the drawer
Dermatologically tested at Reading Clinical Research and officially approved as suitable for sensitive skin
The powder is fully biodegradable
Not tested on animals – only humans!
Harvey's Facts
Established in 1876, our manufacturer has a Royal Warrant to supply the royal family in the Netherlands
Harvey's supplies washing powder to Sainsbury, Waitrose and all major European retailers
The Facts and Science
Comparison between hard water and softened water
[image]
Superior cleaning performance
Using industry-standard test protocols, our washing powder has been proven to demonstrate greater cleaning power than the market-leading UK non-bio, Persil and uses 39% less powder. However, this is under lab conditions.
In reality, in hard water areas, the savings are greater. In hard water areas, additional doses of normal powder are required to overcome the effects of the hard water. Please see the document ' Comparison between Hard Water v Softened Water on page 5.
Linitest results, different soils, according to AISE test protocol
[image]
The science
Harvey's washing powder has been dermatologically tested at Reading Clinical Research and approved as suitable for sensitive skin. View XXXXX
The Regulations
What are the main provisions of Regulation 648/2004?
Tightens the biodegradability testing requirements for surfactants in detergents;
Requires fuller contents information to be provided on detergent labels;
Repeals the following existing detergent Council Di­rectives and Recommendation: Directive 73/404/EEC; Directive 73/405/EEC; Directive 82/242/EEC; Directive 82/243/EEC; Directive 86/94/EEC, and Recommendation 89/524/EEC;
Facilitates future technical amendments for the con­tents of the Regulation without a lengthy procedure for implementation of necessary changes;
Requires manufacturers to produce data sheets to pro­vide medical professionals with more information when treating allergies, as well as a less detailed data sheet available to everyone.
When did regulation (EC) NO 648/2004 on detergents come into force?
Regulation 648/2004 came into force on 8 October 2005.
Who will be designated as the "Competent authority" in the UK?
The Competent authority in the UK is the Chemicals Regulation Directorate (CRD), part of the Health and Safety Executive (HSE).
Is there a requirement to register detergent products in the UK?
There is no requirement in the UK for the registration of detergent products. However, they must comply with the requirements of the EU Detergents Regu­lation (Regulation (EC) No 648/2004).
The legislation looks to regulate in a light-touch way, which means all the manufacturer has to do is ensure that the product meets the biodegradability and labelling requirements in the Detergents Regulation. They must hold a dossier of information proving this and should provide it to the competent authorities upon request.
Regulation 648/2004 is implemented in UK national law by the UK Detergents Regulation (SI 2010/740).
The provisions of the national legislation correspond with the provisions of the EU Regulation in all but one regard. The only difference is in paragraph 9 of the national implementing legislation which imposes a requirement that from 1 January 2015 only detergents with a weight of phosphorus in organic phosphate of 0.4% or less of the weight of the detergent can be placed on the market. Link to the national law. However, the UK restriction has been superseded by an EU restriction.
The EU published Regulation (EU) No 259/2012, amending Regulation 648/2004. This imposes a restriction on phosphates in domestic laundry and dish­ washer detergents.
The UK transposed Regulation (EU) No. 259/2012 in May 2013 via SI 2013 1244. This amends SI 2010 740 and removes the UK restriction at Regulation 9 therein.
Who will be enforcing Regulation 648/2004 on the ground?
The Detergents Regulations 201O have been introduced, superseding the 2005 Regulations, setting out measures to enforce Regulation 648/2004. The Regulations will be enforced by local authority Trading Standards Officers.
What will be covered by Regulation 648/2004?
Article 2 of Regulation 648/2004 states that:
Detergent means any substance or preparation containing soaps and/or other surfactants intended for washing and cleaning processes. Detergents may be in any form (liquid, powder, paste, bar, cake, moulded piece, shape, etc.) and marketed for or used in household, or institutional or industrial purposes.
Other products to be considered as detergents are:
'Auxiliary washing preparation', intended for soaking (pre-washing), rinsing or bleaching clothes, household linen, etc.;
'Laundry fabric softener', intended to modify the feel of fabrics in processes which are to complement the washing of fabrics;
'Cleaning preparation', intended for domestic all pur­poses cleaners and/or other cleaning of surfaces (e.g.: materials, products, machinery, mechanical applianc­es, means of transport and associated equipment, instruments, apparatus, etc.);
'Other cleaning and washing preparations', intended for any other washing and cleaning processes.
This definition of 'detergent' means that manufacturers of cleaning products not containing surfactants will need to comply with the labelling and other data provision require­ments of Regulation 648/2004.
How will Regulation 648/2004 be implemented in the UK?
Unlike a Directive, a Regulation is "directly applicable" and applies throughout the European Union on its own, without the further need for domestic legislation. However, domes­tic legislation needs to be made to provide for machinery to deal with applications for derogations and to provide for enforcement measures (including criminal penalties for breach of Regulation 648/2004). This domestic legislation takes the form of regulations made under section 2(2) of the European Communities Act 1972. Regulations will be issued in two stages: The Detergents Regulations 2005 set out enforcement measures and came into force on 8 October 2005. This enabled us to consult more fully on the procedure for handling derogation applications before introducing new legislation in 2010.
Does Regulation 648/2004 extend to organic substances such as enzymes, microbes and bugs?
No. Regulation 648/2004 only covers detergents and surfactants. Regulation 648/2004 has a wider scope than existing legislation with the inclusion of amphoteric and cationic surfactants, but microbes are not included.