'Proper' Installations: EVERY TIME
With over 24 years of experience in the industry, I (Laurence) have trained my team to always aim for distinction in everything we do, especially our installations.
When I recruit people into our business, I take the time to mentor them both initially and throughout their careers to always look at what Excellence looks like from the customer's perspective.
Our 5-star rating across all review platforms, including Google, Check-a-Trade, Trustpilot, Facebook, and previously Trading Standards Trusted Trader scheme, should hopefully give you peace of mind that we're committed to doing the very best for you and your family.


Best Advice Sales Visit - No Obligation Quotation
From your initial enquiry to our Best Advice Sales Visit, we'll carefully plan the installation, ensuring you get the best guidance possible.
We'll give you all the information you need and answer all of your questions clearly and with as much or as little detail as you need. Plus, we'll provide you with a complete, no-obligation quotation.


Our Product selection is based on our 4-Litmus Tests
When I or Jay (my Installations Leader) come to see you, we will tell you about our 4-Litmus Tests that define what products we will recommend to you.
We believe that selecting the right water softener for your home need not be complicated, and when you understand our Litmus Tests, you will understand why we make our product choices.
My industry has a history in the UK of using 'marketing' to create confusion, all in the name of selling a water softener. There is, consequently, a lot of misinformation out there, so my commitment is to clear the confusion up.
Carefully Planned and Executed Installations
An excellent water softener installation requires careful planning, professional workmanship, and outstanding after-sales care.
You can trust my team to do a great job for you.
One of the things we will consider is the type of right type of installation required, based on your home as it is now and also your longer-term plans. This includes the type of hot water system you have.
When we plan your installation, this is typically what it might look like:
Sometimes there are other factors we need to think about:
Book a free, no-obligation home survey
We care about our customers - You're certainly not just a number to us.
A family-owned business, the longest-established water softener dealership in the world, founded in 1926, and the second oldest consecutively-trading business in the world
Our history is our pedigree, and we're committed to carrying on the legacy set by Jeremy's grandparents when they started the business nearly 100 years ago. That is to provide you with the traditional standards of customer service that we often feel we are missing in the world.
As custodians of this fantastic piece of history, we understand the importance of longevity in everything we do. With decades of experience, we've mastered the art of water softening, and we're dedicated to using our expertise to help you achieve a healthy and happy home.
We believe that water softening is more than just a business; it's a way of life. And we're passionate about making your life easier by offering you the best products and services on the market. You'll know you're in good hands when you step into our store or visit our website.
So if you're looking for a reliable and trustworthy water softener dealership steeped in history and committed to providing you with the best possible service, look no further than us. Join our family today and experience the difference for yourself.
Hydroworks Professional Installations
When we install a water softener, we ensure that we meet the WRAS water regulations whilst also applying our experience.
One such step we take is to always shut off the water main externally to your property (where located and possible) as well as the internal water stop cock before commencing our installation. We do this to help protect a home from water damage.
Outside Garden Tap, Watering the Garden
We generally leave the garden tap on hard water. However, increasingly in recent years, we have been encouraging clients to consider leaving the garden tap on softened water or fitting a separate soft water tap – this is a popular route because indoor and outdoor plants love this.
In fact, in 2022, over 70% of the installations we did included softened water for the garden - and unless you're using a sprinkler for the lawn, it won't add much to your annual salt costs either. Still, the garden will definitely thank you for the extra minerals.
If the preference is to have the outside tap on hard water, then we will always try to do that, but where sometimes this isn't possible, we will give our clients alternative recommendations.
On the other hand, drinking water taps are increasingly being converted to softened water, which makes a beautiful cup of tea and is refreshing to drink too!
We always need an overflow and, of course, a suitable drain.
No Compromising on Quality, Doing a Proper Job
I run a proper business and am a bit of a stickler for doing things properly. For this reason, we only use proper WRAS-approved fittings and British copper.
We never use the more commonly used cheaper Chinese copper as that tends not to last as long or wear as well. It also can react badly with softened water, leaving green stains on sanitary ware! Ouch! (this is a good reason you should ensure anyone doing work in your home only ever uses WRAS-approved products where potable water is used)
We use the best quality valves that offer the best flow rates, and we NEVER use metal-braided hoses as, while cheaper to buy and very commonly used, the inner linings of these tend to crack within a few years, which can cause seeping of water and minor leaks. Here are some of the most commonly used valves in the industry and our experience regarding them: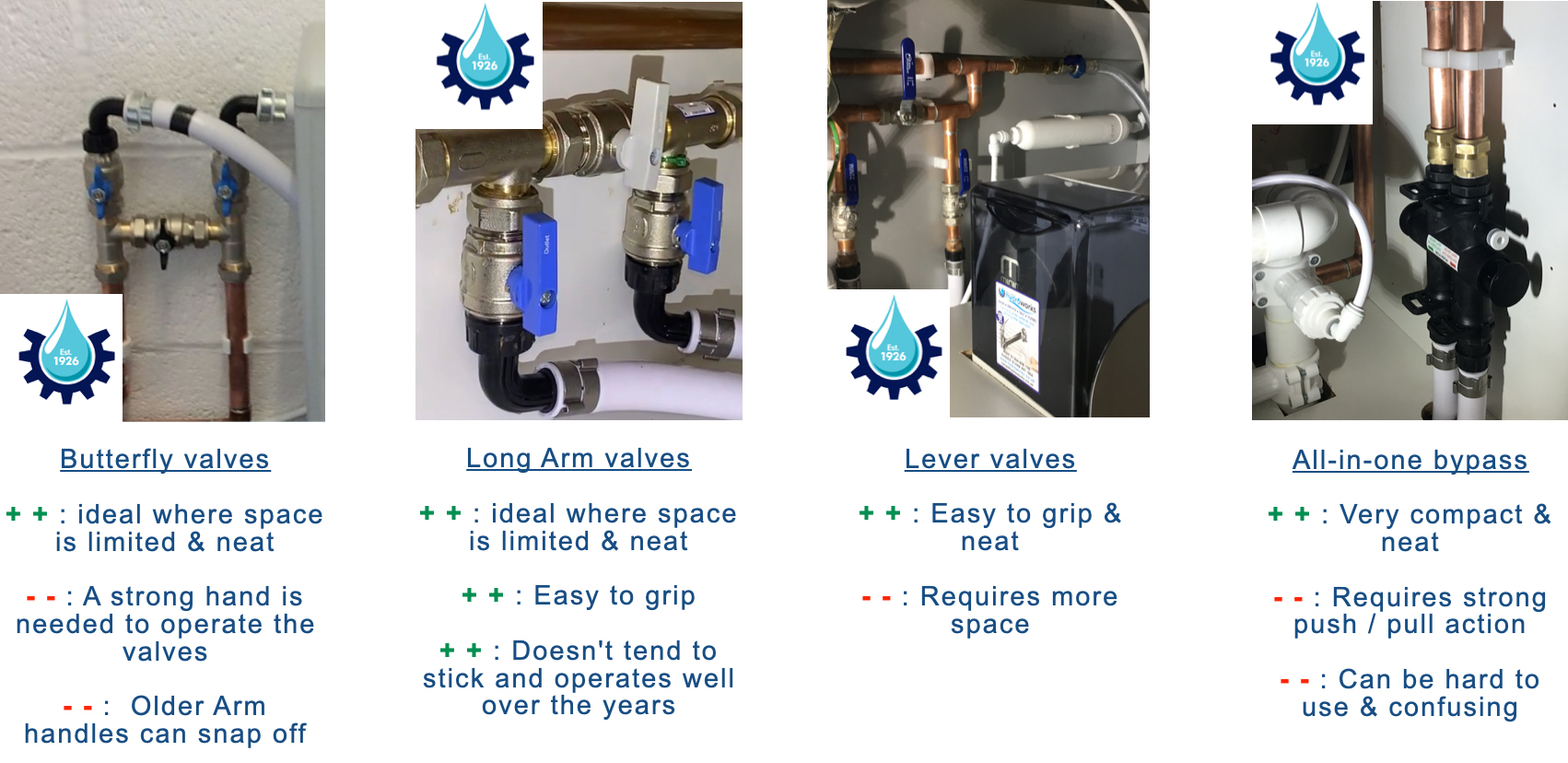 This attention to detail, including how we lay out the installation, is designed to give you an installation you can be proud of and peace of mind.