Professional Domestic and Commercial water softener service, maintenance and repairs.
Maintaining and servicing a water softener well requires excellent knowledge of both the equipment and the principles of water softening, added with a strong knowledge of how domestic and commercial water systems work.
Additionally, you also really need a strong ability not only to fault find but also to solve what can sometimes be complex on-site problems - sometimes the equipment is working perfectly, but actually, the problem is elsewhere!

Contact us to book a water softener service or repair.
That's where my team at Hydroworks and I (Laurence) specialise.
Our team of water softener engineers are initially trained by the equipment manufacturers and continually undergo update refreshers.
Once they have their basic training, I then step into solution training my team to become experts in our industry.
I (Laurence) am a professional water softener expert and have been working deeply within this industry for over 24 years; plus, I started my training working for British Gas in a very technical role that required solution-based problem-solving.
I work hard to ensure that my team are highly knowledgeable, and we are very good at communicating internally to ensure that we all work at the same high level.
I also get very hands-on with our customers, their installations and my team, so don't be surprised if it is me you see coming to service your softener.
We are quite unique in our industry as we are one of a tiny handful of companies that can service and maintain pretty much all makes of water softeners and drinking water filters. Here are some of the more common brands of equipment we can maintain: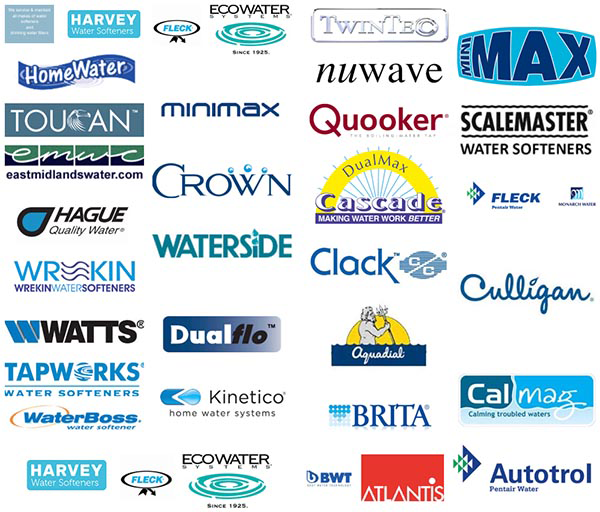 We also service drinking water systems and Quooker boiling water taps.
Our customers tell us our pricing is exceptionally reasonable, and we are very methodical in how we work, keeping excellent records along the way.
When we carry out a service, be it domestic or commercial, we allow enough time to do the job properly. If any spares are needed, we will keep you fully informed so that you can make the right decisions before we replace anything.
We will also always look at the installation itself to ensure that it is also fit for purpose, and does not present any problems or challenges to the user or homeowner.
Sometimes when fault finding a softener, a rare exception can occur that makes it complicated to diagnose multiple faults straight off. This is because some softeners can have multiple faults, and you won't actually know that you've got a specific fault because it has been masked by another fault that is actually creating a more obvious problem.
Every effort will be made to find and fix the fault the first time, but if your machine is one of those exceptions where faults are being masked by other faults, once again we will keep you fully informed and work diligently to fix the problem.
If you're unsure if your water softener is working properly or would like to dip your toe in the water to try us out before opting for a chargeable service, simply ask us about the FREE health check service we provide.
We'll come to your home or business, check the condition of the installation, test the softness of your incoming hard water and the quality of softened water, and test the water pressure. We'll also complete an overview of the installation itself, and then we'll give you a full update.
Due to the wide scope of businesses we serve, including the NHS, we are extensively covered for insurance purposes. We have strong protocols in place for health and safety and risk management.
Servicing and Repair
With our in-depth knowledge of almost all water softeners, our service team will keep your softener performing at its best and will always give you the best advice.
We only ever use new and genuine manufacturer spares to ensure you are getting the best value and performance from your equipment.
Our service cost is based on a repair on site.
If any spares are required, we will give you our best advice and the costs so that you can make the most informed decision.
Suppose your softener needs to be returned to our workshop for a more complete strip-down and repair under workshop conditions. In that case, we will endeavour to leave you with a *FREE Service Replacement Unit for the period of the repair so that you do not miss out on the benefits of softened water. (*subject to availability)
All of our services and repairs come with 12-month parts and labour guarantee on replacement components. Should subsequent faults occur that are unrelated to the original service or repair, these will be chargeable. Still, we often don't charge for the labour in those circumstances, except in exceptional circumstances.
Videos you might find interesting